Autumn Zouk
Wydarzenie: Autumn Zouk
Rozpoczęcie: 2 listopada 2012, o godzinie 19:00

Zakończenie: 4 listopada 2012, o godzinie 23:00
100% Brazilian ZOUK in my city Kyiv, Ukraine!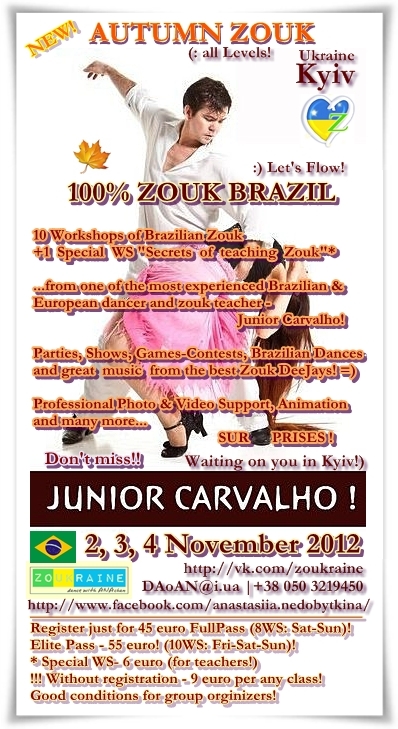 100% ZOUK BRAZIL in Ukraine, Kyiv! and "DANCE ART PHOTOGRAPHY'' - LEARN & IMPROVE your PHOTO SKILLS with Berg Chabot! 2, 3, 4... November 2012! - Join our cozy Zouk-Photo-family! You don't need any Visa!
10 Hard Workshops of Brazilian Zouk for ALL Levels
+1 Special WS "Secrets of teaching Zouk" ...from one of the most experienced Brazilian & European dancer and zouk teacher - Junior Carvalho!
Parties, Shows, Games-Contests, Brazilian Dances and great music from the best Zouk DeeJays! =) Professional Photo & Video Support, Animation and many more... SURPRISES ! :) Let's Flow! ALL LEVELS are Welcome!
Prices:
Register (until 26th of October) just for 45 euro FullPass (8WS: Sat-Sun)!
Elite Pass - 55 euro! (10WS: Fri-Sat-Sun)!
Special WS - just 6 euro (for teachers).
!!! Without registration - 9 euro per any class! Good conditions for group orginizers.
More detailed information is coming soon! Don't miss!!! Waiting on you in Kyiv!=)
http://www.facebook.com/anastasiia.nedobytkina/ DА[email protected] |+38 050 3219450