Interview with Jan Lachenmayer - organizer of Berlin Zouk Congress
Interview with Jan Lachenmayer - organizer of Berlin Zouk Congress
dodano: 27.04.2012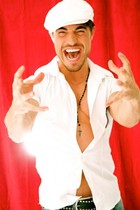 Jan Lachenmayer is Zouk Dancer and Zouk Instructor from Berlin. Passion for Zouk made him co-founder and managing director of ProZouk, the organisation which is responsible for organising and hosting the INTERNATIONAL ZOUK CONGRESS BERLIN. In the interview you will find out how his love for Zouk started and what kind of surprises you can expect at the Berlin Zouk Congress this year.
Salsowisko: How does a Zouk scene in Germany look like? Is it common and what were the beginning of Zouk there?
Jan: The Zouk scene in Germany is still in its infancy. In times when Zouk and LambaZouk was already big in such places as London, Barcelona, Mallorca and the Netherlands, Zouk was almost unknown in Germany. The first small Zouk scene was developed in Bremen just a couple of years ago. In Berlin Zouk really started to grow only 3 years ago. But Zouk is growing at a fast pace now. There are groups all over Germany, e.g. Hamburg, Bremen, Cologne, Bonn, Oldenbourg, Munich, Dresden and Berlin, just to name a few. I really believe that organizing the first International Zouk Congress Berlin, back in 2010, which was the first international congress in Germany, gave the development of this Zouk scene a boost. Looking into the future I am curious about where Zouk will develop in Germany. The potential is great, I could imagine a similar development like Salsa or Tango, but all depends how closely people will collaborate, that the quality of teachers is guaranteed and a certain professionalism in organizing events.
Salsowisko: How did your interest in dancing Zouk start?
Jan: Actually it was coincidence or maybe providence depending on the perspective. I got a free ticket for a Bachata class in a Latin American dance school in Berlin. After some months carrying this ticket with me, I finally decided to go. When I arrived I told the instructor that I don't have a dance partner and asked him whether this is okay. The instructor assured that this shouldn't be problem, because there are usually more female than male dancers. But somehow things were different this time: fewer girls than guys, so I had to leave without taking the class. When I went out of the building I saw a little sign advertising a Brazilian Dance Academy. Curiously I went straight-in and bumped into the instructor. The instructors name was Ailton Silva and the class I participated in called LambaZouk. I immediately fell in love with this dance and knew from the very moment that this was exactly what I wanted to learn. Interestingly in so far as I have a background in solo dances. Although I tried some couple/ ballroom dances before, I never caught fire, but from that moment on things changed completely.
Salsowisko: Do you travel to teach abroad and spread Zouk in different countries?
Jan: Traveling is part of the Zouk feeling. Zouk is very much a cross-cultural movement with events taking place all over Europe and people worldwide participating. I believe that spreading Zouk further, especially to the countries and regions, where it's not yet reached an audience is essential for making Zouk a dance movement comparable in size to Salsa or Tango. Therefore I will do my very best in spreading Zouk to new places and enhance the quality in places where it has been established.
Salsowisko: What are your plans for this year's Berlin Zouk Congress? Do you plan any surprises for the dancers?







Jan: Berlin Zouk Congress is known in the scene for always doing something special and exceptional. In 2010 we were the first ones to bring Kadu and Larissa all the way from Australia to Europe. Now they are well known and booked in several European Zouk and Salsa Festivals. In 2011 we brought Nelson Freitas for the first time to a Zouk congress. This year we have, maybe the most prominent Zouk singer in the world, Paulo Mac all the way from Rio de Janeiro. Furthermore we really thought intensively about enhancing the quality of Zouk and Zouk congresses in Europe. Therefore we came up with the motto "bring your Zouk to the next level!". In order to achieve that we started to create a bigger picture of what it needs to become a great Zouk dancer. We came up with a set of skills that are needed and created themes for workshops accordingly. These are combinations, styling, philosophy, musicality, stage presence, leading & following, improvisation, body isolation and partner technique. We engaged teachers from different fields in order to balance and develop these skills. The aim is to make it possible for everyone to tap into his or her highest potential, thereby bringing your Zouk to the next level.
Salsowisko: What do you think should be a motto for a Zouk dancer?
Jan: Two bodies, one soul!
That's to me what reflects this oneness phenomenon you experience only in Zouk. The open mind and the merging of two individuals into one.

Materiały powiązane:
zouk
,
zouk berlin congress
Wyraź swoją opinię!